Now PerfectIt users get PerfectIt 3 and PerfectIt Cloud as well as instant access to upgrades
Get Upgrades with Your Subscription
PerfectIt is now delivered via a subscription model. Anyone who purchases a PerfectIt subscription is entitled to all upgrades—with no upgrade fees—during the life of their subscription. This new delivery method reduces up-front fees, eliminates upgrade charges and allows us to push product upgrades faster. Plus, all PerfectIt subscribers get access to both our PC and Cloud versions in one price. One user can install PerfectIt on all of their devices, even if one is a Mac/iPad and another is a PC.
PerfectIt Cloud
PerfectIt Cloud brings all of PerfectIt's checking to Mac and iPad users for the first time. Users will have the same experience using PerfectIt Cloud on any Office 365 device, whether working on Mac, PC, iPad or Word Online. It integrates directly into Microsoft Word via the Office Store.
If you're on a Mac, it's the best way to:
Increase accuracy of consistency checking
Save time on tedious rounds of proofreading
Locate undefined abbreviations
Check in US, UK, Canadian and Australian English.
PerfectIt Cloud's new streamlined interface is clean, intuitive and easy to learn.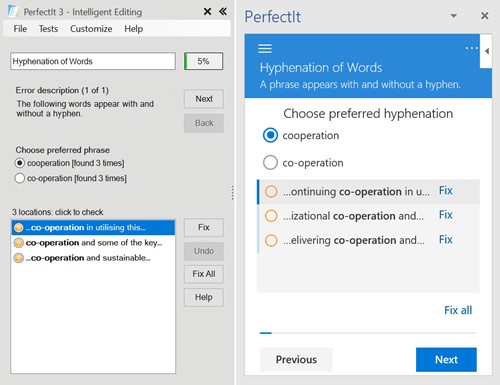 In addition, we update PerfectIt Cloud regularly and plan to add footnote checking and customization of styles as well as all the improvements added to PerfectIt 4 when it is available.

PerfectIt 3.3
All PerfectIt 3 users can upgrade to version 3.3 for free. This is our final release for PerfectIt 3 permanent licenses (purchased before 15 May 2018). PerfectIt 3 finds more errors than PerfectIt 2, including:
Brackets and quotes left open

Oxford commas (either included or not)

Consistency of foreign characters and italics.
In addition, with PerfectIt, you can save time with:
Option to include footnotes and endnotes

Skip errors in quotes

Built-in checking for US, UK, Canadian and Australian spelling preferences, as well as UN, EU, WHO, and American Legal Style.
PerfectIt 4 Coming Soon
We expect to release PerfectIt 4 by the end of 2018, with new checks and features. Since all purchases now include instant access to upgrades, subscribers can get PerfectIt 4 as soon as it is released at no extra cost.
Don't Want to Upgrade?
If you purchased PerfectIt before 15 May 2018, you have a permanent license that is yours to keep forever. That permanent license includes PerfectIt 3.3 but does not include PerfectIt Cloud (or PerfectIt 4 when it is released). PerfectIt will continue to function on your computer indefinitely, and there is no requirement to join the subscription plan. We think you'll love what's coming soon, but you're under no obligation, now or then. You can choose to upgrade to a subscription if and when you feel our improvements justify it.
Guaranteed Results
PerfectIt 3 saves time and money, and the subscription package makes it better than ever. Best of all, if you're not completely satisfied then your purchase is assured with a no hassle 30-day money back guarantee.