PerfectIt 4.1 Is Now Included with All Annual Licenses
Introducing PerfectIt 4.1 (June 2020)
The new version of PerfectIt has much more than that ".1" suggests! Here's what's new:
For the first time, you can control exactly what PerfectIt finds. Now you can turn PerfectIt into a custom checker designed (by you) to lift writing standards at your organization.

New features include:
Add logos to PerfectIt styles.

Control which checks are available in PerfectIt styles.

Configure whether PerfectIt styles include consistency checking or just style preferences.
These features make it possible to use PerfectIt in entirely new ways. Read about how this new release turns editors into educators and what you can teach with PerfectIt.

Styles in PerfectIt Cloud
We've added GPO Style, and we've updated PerfectIt Cloud's American Legal Style, WHO Style, EU Style and UN Style. Now all PerfectIt's built-in styles are equal across versions. If you use PerfectIt Cloud, there's no need to install anything (the changes will be there when you run it).

 PerfectIt 4 (June 2019)
Here's what's new in the latest version of PerfectIt:
The most important changes in PerfectIt 4 are:
Faster initial scan saves time on every document.

New user interface with detailed previews and one-click fix.

GPO Style added to built-in styles.

Major updates to American Legal Style and WHO Style.

Base new styles on existing styles.

Combine styles to create new styles.

Online help.



Click to read more about how PerfectIt 4 helps you to work faster or to learn more about styles based on other styles.

PerfectIt Cloud (June 2018)

PerfectIt Cloud brings all of PerfectIt's checking to Mac and iPad users for the first time. Users will have the same experience using PerfectIt Cloud on any Office 365 device, whether working on Mac, PC, iPad or Word Online. It integrates directly into Microsoft Word via the Office Store.
If you're on a Mac, PerfectIt Cloud is the best way to:
Increase accuracy of consistency checking.
Save time on tedious rounds of proofreading.
Locate undefined abbreviations.
Check in US, UK, Canadian and Australian English.
PerfectIt Cloud's new streamlined interface is clean, intuitive and easy to learn.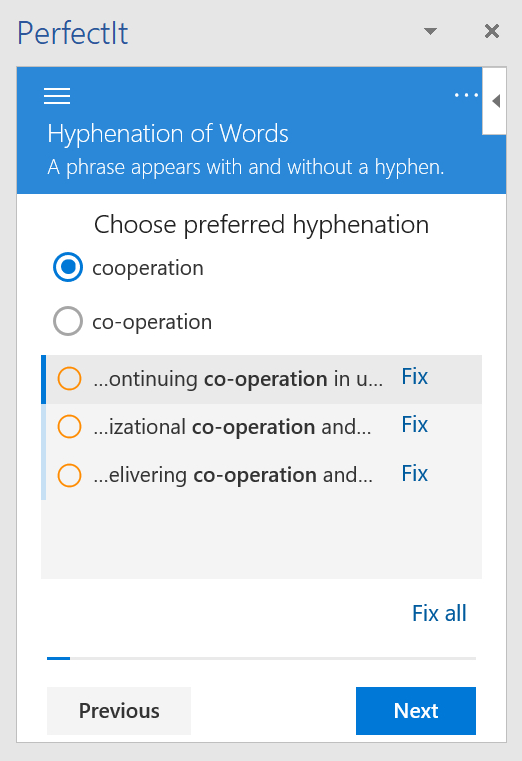 Guaranteed Results
PerfectIt saves time and money, and the subscription package makes it better than ever. Best of all, if you're not completely satisfied then your purchase is assured with a no hassle 30-day money back guarantee.
Annual License Holders
All annual license holders get all updates to PerfectIt (both PerfectIt 4 and PerfectIt Cloud). Click to choose your version.
Permanent License Holders
If you have a permanent license (purchased before 1 June 2018), PerfectIt will continue to function on your computer indefinitely, and there is no requirement to join the subscription plan. However, you won't have access to PerfectIt 4 or PerfectIt Cloud. We think you'll love the new products. And the time saving often pays for the upgrade instantly. Click to get a free trial or purchase at the discounted upgrade price.