Technology Competence: What the Ethical Duty Means for You and Your Firm
29 November, 2017
When the duty of technology competence was introduced in 2012, the notion that lawyers would incorporate technology into legal practice felt more aspirational than realistic. Five years later, it is now clear that technology awareness, wisdom, and adoption are necessary. Ignoring the duty also has business, practical, and ethical ramifications.
Technology Competence: What the Ethical Duty Means for You and Your Firm is a new white paper by Ivy B. Grey that explains the codified duty of technology competence. This white paper discusses:
What is the duty of technology competence?
Why does it matter for lawyers and their law firms?
How does it affect it affect you?
How do we become technologically competent, and create policies to support the mandate?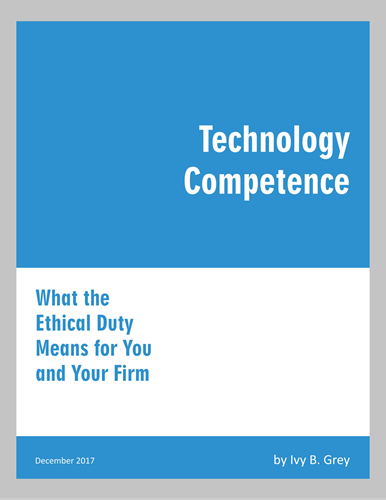 Using MS Word as an example, we provide a detailed analysis of the ethical duty; review business and ethical consequences of incompetence; and explore the practical implications for your firm. Along the way, we debunk myths about MS Word, showing that, for competence, every part of your legal practice matters.
The white paper is free to download. Click below to get your copy now.