Fine-Tuning¶
This guide explains how to perform advanced customizations on certain PerfectIt 4 checks. In particular, it covers:
To start, open the Style Sheet Editor and click the Fine-Tuning tab. This is shown below: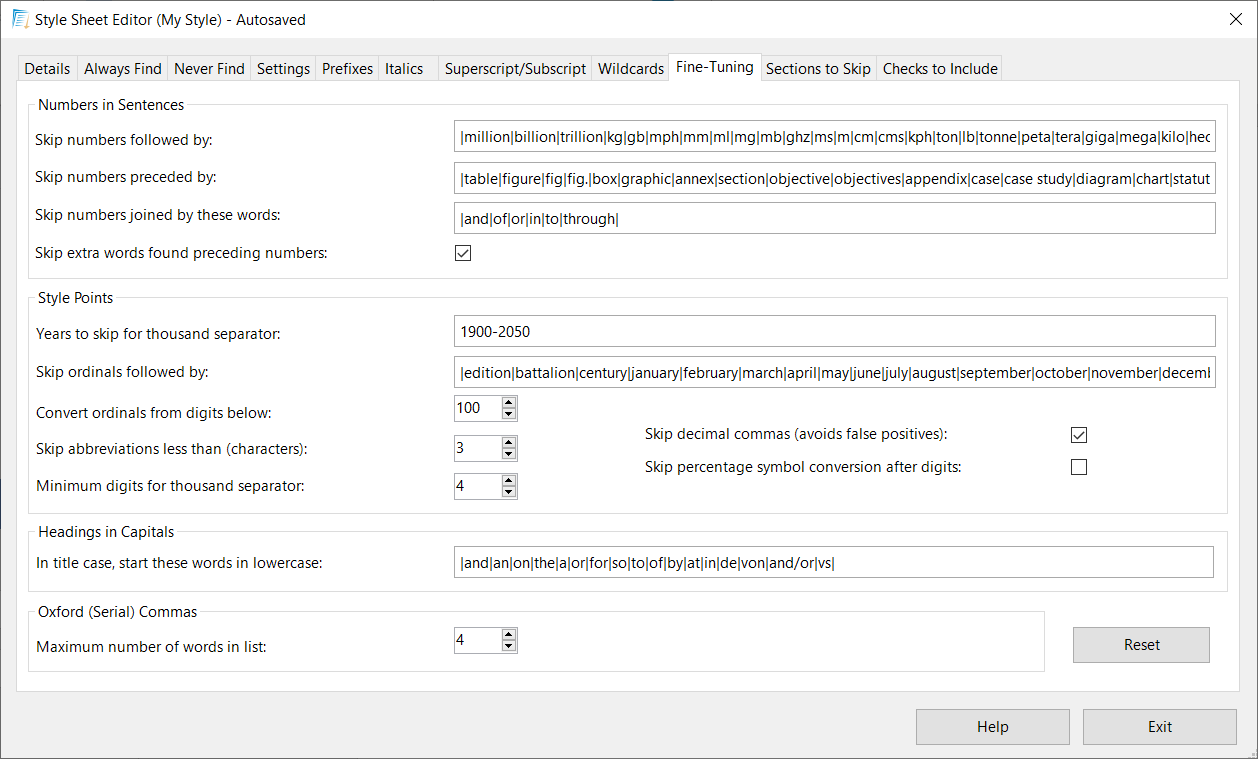 Numbers in Sentences¶
The Numbers in Sentences check can be calibrated to find an increased or decreased number of locations (which will result in an increase or decrease in the number of false positives). You can set the following preferences:
Style Points¶
The Style Points check can be calibrated for a number of user preferences:
Capitalization of Headings¶
The Capitalization of Headings check can be customized to specify which words (such as 'a' or 'an') should appear in lowercase in titles. List those words in the text box labelled In title case, start these words in lowercase.
Oxford (Serial) Commas¶
The Oxford Commas check attempts to determine if items are in a list. It does that by setting a maximum number of words that would still be part of the same list. For instance, the sentence, 'He went to the park, the playground and the swimming pool.' has no Oxford commas and three words after the final 'and'. The sentence, 'He went to the park, the playground and then he went all the way home via the swimming pool.' has eleven words after the final 'and'. If the maximum number of words were set to eight, then the first instance would be found (three words) and the second (eleven words) would not. You can set that number of words in this box. Decrease the number to find fewer false positives (but miss more errors) or increase it to find more errors (but also more false positives).