Taking PerfectIt to a New Level
31 May, 2018
By Daniel Heuman
Starting today, PerfectIt is about to get a lot better.
Meeting Expectations
What users expect from a software product has changed in the decade since I introduced PerfectIt. In 2009, the iPhone was still new. There were no iPads. Mobile internet was in its infancy. And the 'cloud' referred to fluffy white things in the sky. Now customers expect a product to work across platforms, they expect it to sync across devices, they expect it to be easier to use, and they expect to pay less upfront.
And what customers expect isn't the only difference. A decade on, PerfectIt has a development team behind it, and what we think we can offer has improved. Thanks to amazing engagement from editors around the world, we have ten years' worth of suggestions and enhancements that we want to deliver.
What's Changing Now
In 2015, I started hiring and training a team of developers based in the UK. I'm delighted to tell you about what they've been building; and I'm excited about what they'll build in the years ahead. The first improvements arrive today.
Our New Look
Today we launch our new logo and new website. The new website has a cleaner, more modern look and is easier to navigate. The site creates a separate experience for legal users so we can better serve one of our fastest-growing markets. Our flagship product is no longer known as PerfectIt Pro. It is now simply PerfectIt.
Our New Subscriptions
We've switched our licenses to an annual subscription at a lower price. We know that people are tired of subscriptions for music, movies and even vegetable delivery services. But in the case of PerfectIt, it means we can offer you, the user, much more. The benefits are:
Lower upfront cost.

Dropping our price makes it easier for new users to get started. That's especially important where so many of our users are running independent businesses on a tight budget.

Both PC and Mac versions in one price.

All subscriptions include PerfectIt 3 and PerfectIt Cloud (more on that below). You can install PerfectIt on your PC at work and your iPad at home.

All upgrades are included in the price

(including PerfectIt 4 which is due later this year). Most of our users pay for each PerfectIt upgrade anyway. Now that hidden fee is gone.

Cloud services.

We plan to add options to back up style sheets online and sync them between computers and across teams.

Major improvements on a regular basis.

With subscriptions and a professional development team, we will be adding more to PerfectIt and doing so more frequently.
Our current users do not need to make any changes now—or ever. But by switching to subscriptions, we create an offer that's simple and cost-effective and has more benefits than we could deliver in the past.
We're doing that in a way that keeps prices affordable. An old license cost $99. Around half of our users buy an upgrade within 24 months. That's $165 for three years. Our new regular price is $70 per year. Our new discounted price for members of professional societies is $49 per year. Over a two- or three-year period, lots of users will pay less and get more.
Our New Product
On 26 June 2018, we will introduce a new product for everyone with an annual subscription. It's a cloud version that makes PerfectIt compatible with Macs and iPads for the first time. For any user with Office 2016/365, PerfectIt Cloud will have seamless integration with Word. It does not replace PerfectIt 3. Instead, all subscribers get access to both versions.
The graphic below shows PerfectIt 3 next to PerfectIt Cloud. Even from one screenshot, you can see that having a team of developers means we can offer a radically improved experience in ease, simplicity, and presentation.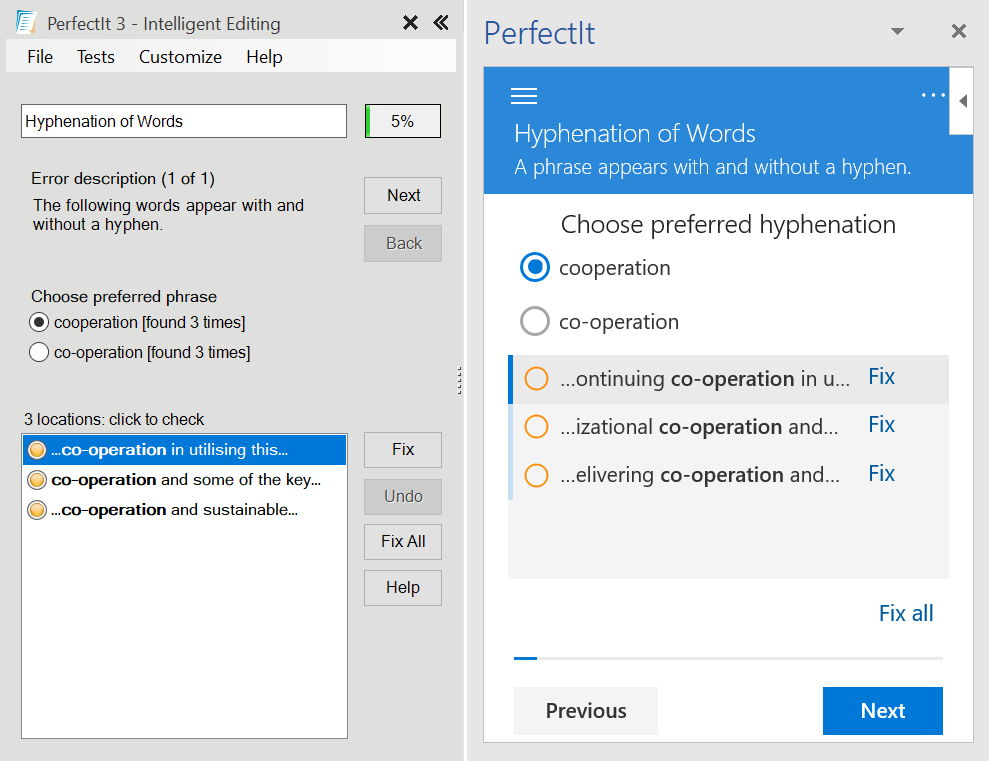 Honouring Every Customer and Every Purchase
Our users are the reason that we've been successful. We are committed to protecting the value of every purchase of PerfectIt ever made. That's why our loyal users will not lose out. We've prepared a final PerfectIt 3 release (PerfectIt 3.3) that is available to all users now. Though we will not sell any more permanent licenses, all existing permanent licenses will continue to function forever.
We know some people prefer the one-off nature of a permanent license. Existing users have it forever (and will always be able to download their version from our website). We know others prefer the benefits that subscriptions offer. For any users who purchased in the last 12 months and who prefer subscriptions, please contact us and we will transfer your license pro-rata.
Most importantly, every existing customer will have access to a discounted subscription no matter when you choose to subscribe. Every customer who purchased before today will pay just $49 per user per year (a permanent 30% discount). You can join the subscription plan if and when you feel our improvements justify it—but we think you'll love it, especially as new releases come out.
Future Releases
PerfectIt Cloud isn't the only new product. Next year we'll release PerfectIt 4. Everyone with an annual subscription will have access to all versions of PerfectIt. All upgrades are included in the price.
Development of PerfectIt 4 has started; and significant improvements are coming. The product will be faster. The user interface will be simpler and clearer. PerfectIt will find lots of new errors that it can't find now (all based on suggestions from editors). And styles will be easier to back up, sync and prepare. It's an exciting product, and I'll have much more to say about it nearer the time. Beyond that, plans for PerfectIt 5 and 6 are already underway.
What's Not Changing
Though there are changes coming, there are some things we don't ever plan to change about how we, and PerfectIt, work.
Independently Owned
We are independently owned and operated, driven by our customers. We continue to grow organically. That means there is no venture capital fund or parent company driving our decisions or stealing our focus. I still run the business and make every key decision, but now we have the infrastructure in place to ensure that if anything were to happen to me, PerfectIt would continue to grow.
User Driven
We will continue to focus on professional editors, writers and others who work daily with words. Though we have entered new markets, we have not lost focus on the users who make up the majority of our base and gave us their trust first. We will continue to listen to you and develop for you.
Affordable and Transparent
PerfectIt will continue to be affordable. We don't do high-price enterprise software. We don't have sales teams or hidden costs. And if you're a member of a professional editing, translation or publishing society, we will continue your discounts. In fact, we're doubling our discounts to all professional societies to encourage people to join them and to ensure that our core customers get the best price we can offer.
Features Won't Fade
PerfectIt's features will not be phased out or siphoned away for enterprise customers. We think the value in editing software is in giving every user all the features and letting every user customize it themselves. It will take us some time to build everything from PerfectIt 3 into PerfectIt Cloud. However, our plan is to add more features and more functionality for all users on all platforms.
Your Data Is Confidential
We do not collect or sell your data. And neither we nor anyone else will have access to your documents. We are adding a secure Cloud product as an option. However, we are not moving PerfectIt to the cloud. For PC users who do not want to put documents on a server, there will always be a way to download PerfectIt and use it locally, just as there has been since 2009.
L
ooking Forward (and Back)
With PerfectIt rapidly approaching its tenth anniversary, I want to end this post on a personal note.
PerfectIt began in my bedroom in 2006 as a product intended for consultants. When it launched in 2009, I didn't know that most users would be professional editors. But from that point onward, editors have been a driving force. And feedback from editors has driven every development decision.
PerfectIt 3 now has more than 6,000 users in 72 countries. It is the leading software for professional editors, and it is used by governments, transnational institutions and Fortune 500 companies around the world. Engineers, proposal writers, lawyers, consultants, medical writers, translators, authors and academics all use PerfectIt. I'm immensely proud of what PerfectIt has accomplished. But it can do more.
PerfectIt is my driving passion, and now with a development team behind me, we can dramatically improve the product. PerfectIt is going to reach new levels of functionality, accuracy and speed while still sticking to our core belief that human beings should make every editorial decision.
As we approach the anniversary, we're excited about what's coming next. For a product focused on consistency, it should be reassuring to know that we are going to deliver more of the same. PerfectIt will continue to help people dedicated to the craft of editing and ensure that they can compete under the increasing time and budget pressures that the industry demands.
Looking forward, we're going to live up to what people expect from a modern software company, with a better product that offers more benefits to users. PerfectIt isn't the product of a one-man band anymore. We have a full team on board who share my commitment to you; and we're excited that our work will continue to help deliver faster, better, more consistent documents.
Daniel Heuman is the CEO and Founder of Intelligent Editing.